Do you feel like regulatory compliance of your non-food consumer products is a losing battle?
REACH, RoHS, WEEE, POPs, EUTR, CE Marking, CLP, ErP… and on it goes. Regulations are constantly evolving. You know that non-compliance can translate into significant fees, brand reputation and unhappy customers. More changes ahead is the only certainty that you have. How do you keep up with the limited resources available?
Patrokles QA Manager enables you to comply with 107 EU and member state laws and regulations (and counting) in one dedicated system
Offering industry best practices to manage regulatory requirements, make well informed risk based decisions, and work with supply chain partners to ensure that your products always meet regulatory obligations, are safe to use, environmentally responsible, and fit for purpose.

Move from spreadsheet and email firefighting to a centralised web-based platform with one version of the truth
Get on top of regulatory requirements (and stay there)
Make well informed, risk based decisions
Collaborate with suppliers to always meet your standards
Sell only products that are safe to use, environmentally responsible, and fit for purpose
Stay off market surveillance authority radar screens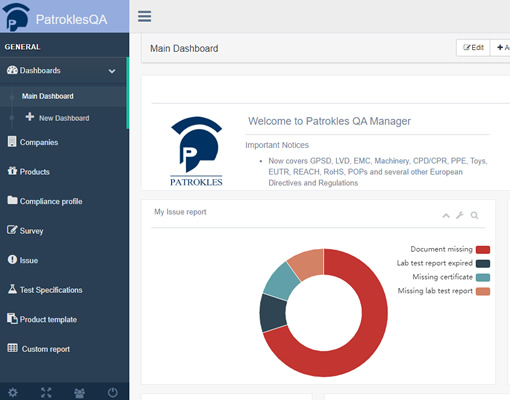 Patrokles QA Manager – Seamless collaboration from product idea to conformity declaration